Concert Performance
Friday, September 6, 2019, 8 PM
The Jazz Café
The Neuer Wald Ensemble (New Forest Ensemble) featuring:
• Tanya Saunders ~ Vocals
• Roy Richardson ~ Saxophone
• Jordan Wells ~ Spoken Word
• Adrian Valosin ~ Percussion
• Bernhard Geiger ~ Double Bass
• Douglas Miller ~ Piano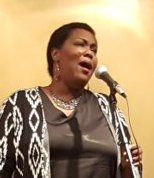 Tanya Saunders studied piano and voice with Lily Dichupa-Alano, Ernie Scott, and the renowned Lillette Jenkins-Weisner. At fourteen, she won the Talented Teen of New Jersey competition, appearing at the Garden State Arts Center. She has performed in many community theater and summer stock productions, and in a European tour of "Jesus Christ Superstar" and "West Side Story." She has composed and produced two off-Broadway plays. She is currently Director of Music for Allen Chapel A.M.E. Church in Asbury Park.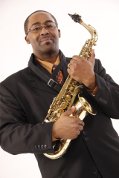 Roy Richardson started playing flute at the age of 9 and at 14 he performed in his first talent/variety show. Roy has studied with Trenton, NJ music legends Tom Passerella and Tommy Grice. Roy took breaks from local performance to go on international tours with "Queen Esther Marrow and the Harlem Gospel Singers." Roy also traveled with the national Broadway production tour of "The Civil War" starring Be Be Winans, Larry Gatlin and John Schneider. Highlights of his career include performing at the Montreal Jazz Festival in 1998 and at the Vatican for the Pope in 1996. He has worked with Leon Huff of Philly International and shared the stage with the late Woody Shaw, Charles Earland, Jimmy McGiff, Narada Michael Waldon, Dionne Warwick, 112 and Norman Connors.
Jordan Wells is a young poet and music artist. He is currently studying at MJCMAG honing his writing and production skills for a debut music release. He was recently a featured spoken word artist on Sacco E Vanzetti's latest CD 'Incantation' reciting Robert Hayden's Those Winter Sundays. He will be a special guest performer at this concert.
Adrian Valosin has training in modern classical composition which makes him unique among jazz drummers. He has studied with composer and conductor Joel Thome, Joe Morello (Dave Brubeck Quartet), and South Indian classical musician Padma Srinivasan. Adrian was Artist-In-Residence at Carnegie-Mellon University from 1987-88 where he taught drum set and open improvisation. He has performed with Bern Nix, Bill Zola, Oliver Lake, Leroy Jenkins, Roy Campbell, Matt Mitchell, Sonny Simmons, Jack Six, Sid Simmons, Harry Leahy, Dill Jones, Toshi Makahari, and Herb Robertson. Adrian is a prolific composer and will be presenting two of his compositions at this performance.
Douglas Miller and Bernhard Geiger are the musical directors of Neuer Wald Ensemble. They have been working together for over ten years. Born in Gengenbach, in the Black Forest region of Germany, Bernhard Geiger has taken more than 50 years to arrive where he is today. Starting with piano and organ lessons from age ten, he switched to bass because he could not find a bass player. At present, piano players find him. Bernhard has studied with Arthur Münzer (piano and organ), Johannes Schädlich (Jazz) and Laura McCreery (Classical). Bernhard has played with: the Thilo Wagner Trio and Threebop (Germany), Swing Line (France), and the Eric Haltmeier Trio, Tom Hyland Trio, The Ponds Big Band, and the Westminster Community Orchestra.

Douglas Miller is a pianist and electronic keyboardist. Raised in a traditional Latin-American family, he was born in Aguirre, Puerto Rico and was trained in classical piano techniques and exposed to the sounds of nature from the age of six. He has studied with Elsa Rahlpach, Theran Mills, Dorothy Sandlin, Dr. Frederick Ming Chang, Dr. Louis Angelini, Norman Schnell, Lillette Jenkins Wisner, and Laurie Altman. He currently is studying art with Tatiana Sougakova. Douglas is a strong proponent of the "free-art model." He composes sound designs and music arrangements for numerous independent film and video projects.

Together, Douglas and Bernhard have been compiling and arranging the hidden gems and the more esoteric musical works contained within the American, European, Latin American, and Classical songbooks. Their inspiration for the creation of the Neuer Wald Ensemble was to provide an atelier for composers and musicians to further develop their creative ability as well as to sustain a liberating atmosphere for musical expression.